How Do I Find Which Career is Right For Me?
The University of Calgary is having their Winter Career Fair online on Jan 19th, the Calgary Career Fair and Training Expo is happening at the Telus Convention Centre on Jan 25th; and the Edmonton Career Fair and Training Expo at the Edmonton Convention Centre on Feb 23rd.

How do you know which career is right for you?

Enter the book "Do What You Are" by Paul Tieger and Barbara Barron Tieger. Using the Myers Briggs Personality Type Indicator, these authors are eerily accurate in their descriptions of a variety of people. They noticed a correlation between certain personality types being drawn to and loving certain careers. When a person tries to do something not aligned with who they are, the results can be tragic. We've all seen this in the stark contrast between our favorite teachers and the teachers who were…less happy to be there.

Using this as my main source material, I've been instructing teens and adults in career coaching for several years. What started as a hobby has become my passion.

The Pattern

By the time youth reach ages 18-25, there's pressure from their peers, their counselors, their parents, and themselves to figure out what they want to do for the rest of their life. For those who are unsure, many do what's expected of them and choose a university program, often general studies; or, they start working low wage jobs just to make money now and delay their career plans.

Does this sound familiar?

For those who pursue post secondary, many graduate yet don't work in the field they've invested years of their time and thousands of dollars towards. They become buried by student loan debt which takes an average of 9 to 19 years to pay off.

I strongly believe it's better to prevent a problem than to fix it.

The first step is awareness. When a person enters the workforce, they're really on one of two paths.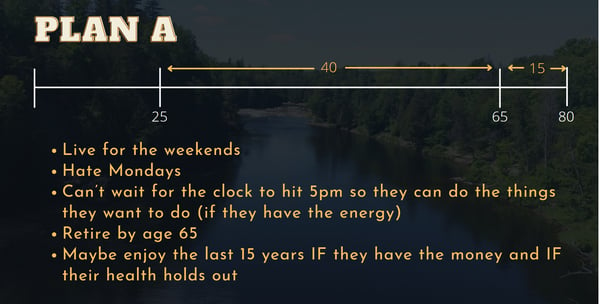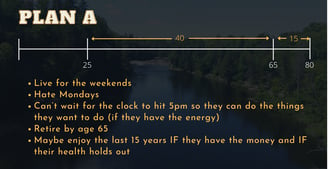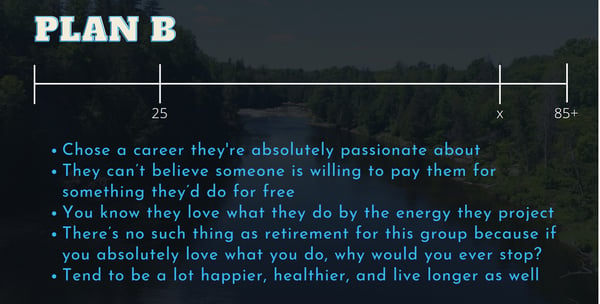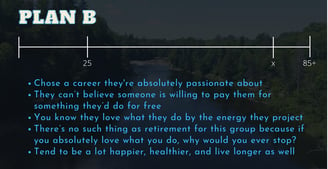 Given the choice between Plan A and Plan B, which would you choose?

Whether you're choosing your first career or your 50th, it's so important to find your passion. That being said, it's also important to find a career that provides for you and your family. Loving what you do while not being able to pay the bills is unneccessary and stressful. Ensure your career will one day put you in a position to provide you the lifestyle you want, while having money left over to care for those less fortunate than you.

My job as a career coach and financial professional is to set people up for success as soon as possible. If you'd like to meet with me to do a group career coaching session or one-on-one to discover your personality type and career matches, please contact me.

The opinions expressed in this blog are my own and do not reflect WFG or any other organization. I also claim any errors made as my own. To offer corrections or feedback, please contact me. Sincerely, Tina Michelle Moller